TIG Series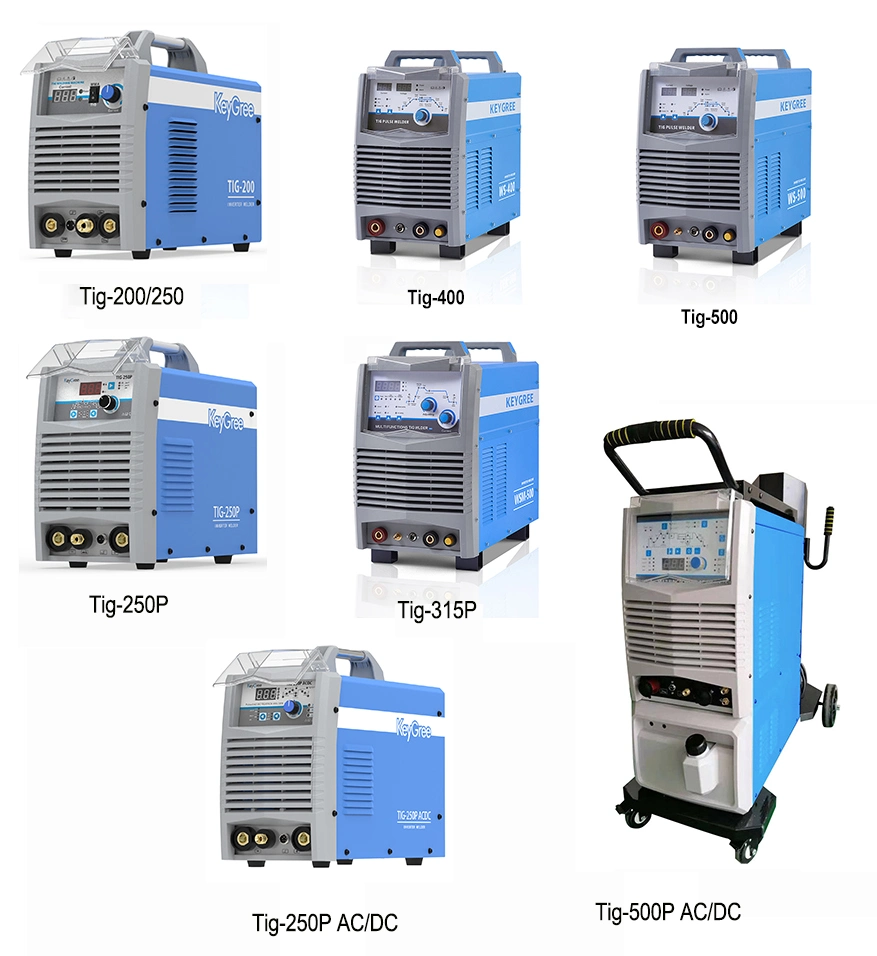 Inverter AC/DC TIG/MMA Welding Machine
IGBT Type
Portable Inverter AC DC HF TIG With Pulse / MMA Welder
Upgrade IGBT Inverter Technology
Ideal for welding of carbon steels, low-alloy steels and stainless steels and aluminum
Digital Display
Equipped with voltage protection and thermal protection
Easy-to-use and user-friendly control panel
Welding Mode (AC HF TIG,AC Pulsed HF TIG,DC HF TIG,DC Pulsed HF TIG,Lift TIG)and 2T/4T selections
Adjustable & displayable gas pro/delay, initial/ base/peak current; simply welding procedure parameters.
PRODUCT DESCRIPTION
Adjustable; Hot start, Arc Force and built-in Anti-Sticking for MMA welding
Power, Overload and Under/Over-Voltage LED indicators
Easy welding cable connections with European type quick connectors
Foot control can be used
Fan cooling system
IP21S Protection Class
Lightweight, Compact Design
Weight is only Kg.
Dimensions (cm.) (L×W×H)
Main Technical Parameter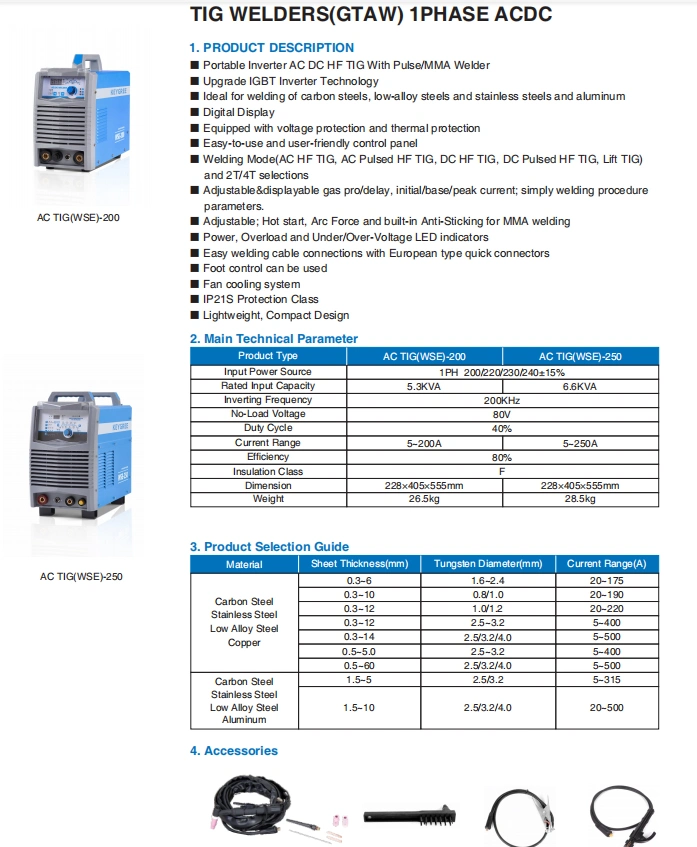 Accessories:
Earth clamp×1pcs, cable joint×2pcs, inner hexagon spanner×1pcs, grounding cable×3meters, TIG torch×1set.

Packaging Details: Standard Packing, then in wooden carton
Delivery Detail: 15-20 work days after the whole payment


OUR ADVANTAGES:
1). 30 years manufacturing experience in welding machines.
With more than 500 employees and 50,000 m2 work shop.
With rich OEM experience, 10 years exporting experience.

2).Full-range of welding machines: MMA/TIG/MIG/Air plasma cutter/Arc submerged welders.

3).With European CE certificate and 28 national patents.

4).We are good at industry welding machine:
Such as:
Arc-400/500/630 industry welders.
Mig-350/500/630 industry and heavy duty type for long time continue working.
Mig-280/350/500A double pulse professional aluminum welder. with very reliable quality and competitive price.
Tig-250/315/500A pulse&AC/DC machine, professional aluminum welder.
Plasma cutter 80/100/120/160/200 CNC machine.
Submerged Arc-1000/1250A.

5).OEM is available.

6).1 year warranty, patents products 3 years.

Any products meet your demand, please feel free to contact us!