The latest DECAPOWER multi-function FENGBAO series Black Leopard MIG-200 GAS/GASLESS inverter welding machine is capable of welding or jointing anything. MIG-200 handles 4in1 function MIG/MAG/TIG/MMA in one unit and produce smooth accurate work - the MIG-200 is the experts of metals!

Incorporating the latest MIG/TIG/MMA Technology, perfect for all-position welding with outhandling thin metal results and almost zero spatter cleanup! The BLACK Leopard Series delivers a powerful 30A-180A current with super stable arc force control - fabrication, repairs, metal body works, the MIG-200 does it well !

The MIG-200 is a breakthrough machine, utilizing the efficiency and reliability of Multiple IGBT inverters allowing a huge increase in duty cycle, it means you can push this powerhouse to the limit and beyond! Incorporating the latest SIEMENS (INFINEON Germany) IGBT Inverter Technology, it is suitable for welding stainless steel, copper, iron, brass, titanium, carbon steel , aluminum and more.

The MIG-200 features state-of-the-art single roller bearing all metal wire drive, precise digital controls for both Voltage and Current with infinite adjustment of weld strength and wire feed speed and an advanced protective circuit to prevent overload/overheating.

About Inverter Technology: The benefit of transistor bridge (INVERTER) TECHNOLOGY is its continuous current rectification. This allows for improved efficiency with power conversion exceeding 85%. The entire range of DECAPOWER welders feature inverter technology meaning they are 30% lighter, more compact and easier to use than ever.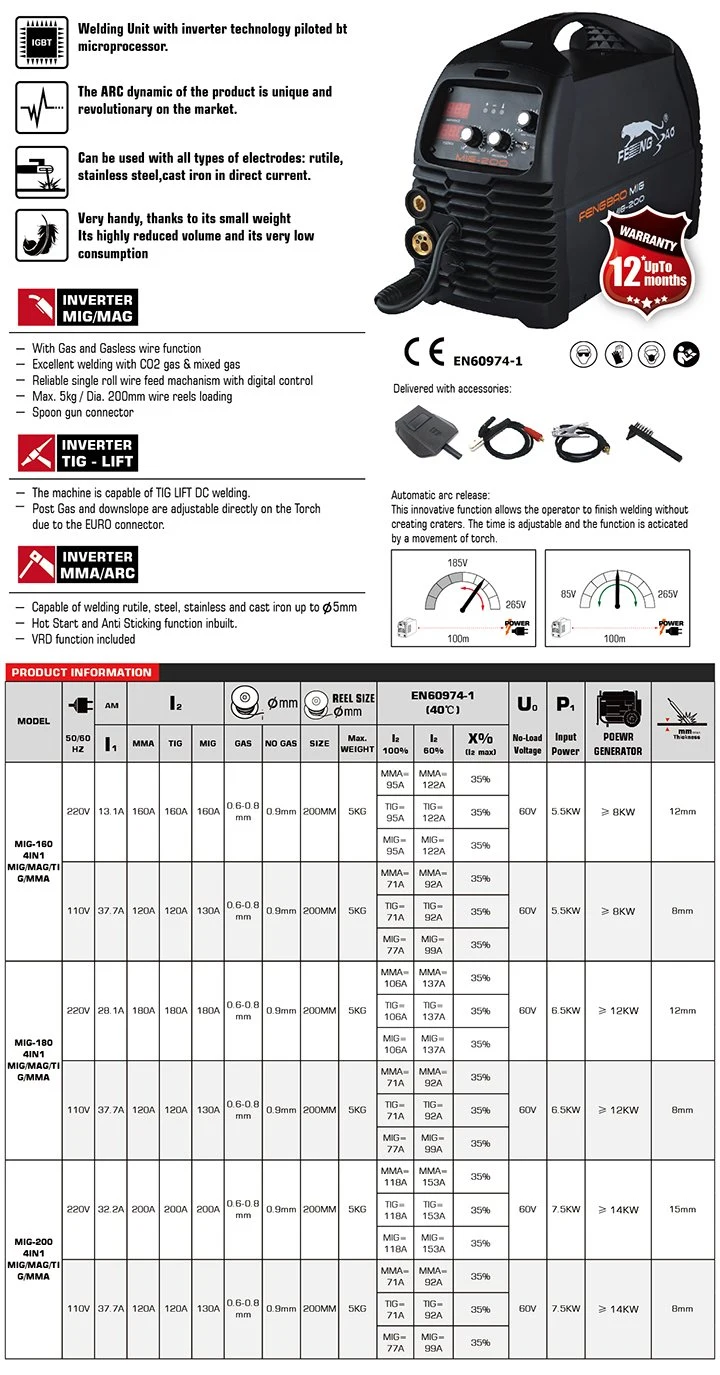 SPECIFICATION:
Model: MIG-200
Rated input Voltage: AC~115V / AC~230V
Rated Input Power: 6.5KVA
Friendly Generator Power: >12KW
Frequency: 50/60Hz
Non-load Voltage: 65V
Duty Cycle: 25%@180A
EFFICIENCY: 85%
Class of Insulation: F
Case Protection Degree: IP21
Power Plug: 10A
----------------------------------------
Rated output current MMA: 160A/26.4V@25%; 103A/24.1V@60% ; 80A/23.2V@100%
Current Range MMA: 10~60A
----------------------------------------
Rated output current TIG: 180A/17.2V@25%; 116A/14.6V@60% ; 90A/13.6V@100%
Current Rage TIG: 10-180A
----------------------------------------
Rated output current MIG: 180A/23V@25%; 116A/19.8V@60% ; 90A/18.5V@100%
Current Rage MTIG: 10-180A
Reel wire dia. 0.6mm/0.8mm/1.0mm
Reel size & Weight: φ200mm / Max. 5kg

Accessory:
1) Electorde Holder with 1.8m cable
2) Earth Clamp with 1.2m cable
3) Foldable mask
4) Chipping Hammer & Brush
5) MIG TORCH
6) TIG TORCH
Option:
- BMC BOX for easy-carry & safe-storage
Size & Weight:
- Product Weight: 13 kg
- Product Dimensions (W x L x H): 580 x 260 x 420 mm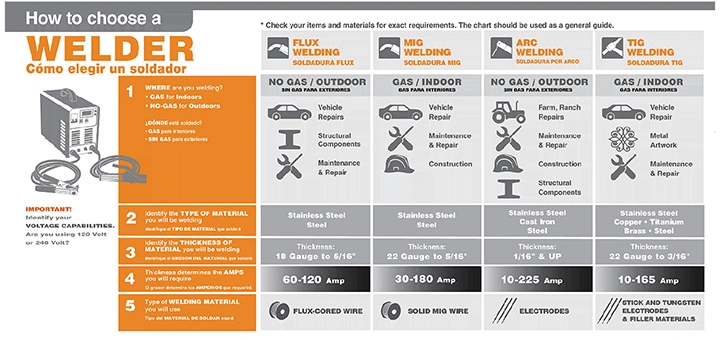 WHY DECAPOWER ?
> DELIVERY ON TIME.
> EXTENSIVE PRODUCT RANGE.
> GREAT RETUPATION
> RESPONSIBLE AND RESPONSIVE CUSTOMER CARE.
> OUR AFTER-SALES SERVICE BRINGS YOU A PEACE OF MIND.
> CUSTOMIZED PRODUCTION IS AVAILABLE.
> SUPPLY FOR OEM AND AFTER MARKETS.
> QUALITY ASSURANCE FROM RAW MATERIAL.
> 100% TESTED FOR THE ACCURACY AND QUALITY PIROR TO SHIPMENT.
Quality & Engineering:
DECAPOWER delivers consistent quality from our ISO9001 certified manufacturing facilities that you can rely on every turn. Our application-specific engineers and dedicated R&D team are able to tailor solutions for optimal performance and value.