The FENGBAO series DC inverter welding machine is the Professional Welder with genius design for long time lasting working. It is the perfect performance upgrade for those jobs that need a little more power. This powerful, lightweight ARC inverter technology does it all. True DC inverter technology is utilised in the most efficient way capable of smooth accurate work with perfect stability.

This awesome 'Go anywhere' MMA-ARC welds all ferrous metals such as mild steel, stainless steel, chrome moly, etc. The MMA/Stick welding function allows you to run up to a 5mm rod with perfect stability of the Arc.

Without a doubt, the FENGBAO series WELDER is in a league of its own, packed with superior features. It incorporates the latest High Frequency Inverter technology producing the highest quality results in stick electrode welding with complete reliability.

The FENGBAO WELDER is the ultimate choice for DIY, homeworking, light industrial, site welding, repairing, etc; it is 100% generator friendly and weighs in at Max. 6kg! Very handy for go anywhere.

Meanwhile, the machine is approvaved by CSA, UL, CE certificate and fully comliant with mandatory EMC legislation.

"FULL-BRIDGE" Inverter Technology:
The benefit of transistor bridge technology is continuous current rectification for improved efficiency with power conversion. DECAPOWER's FULL-BRIDGE allows for even longer run times and improved duty cycle within a more compact and easier to use unit.

Don't compromise on the success of your project, revel in the power!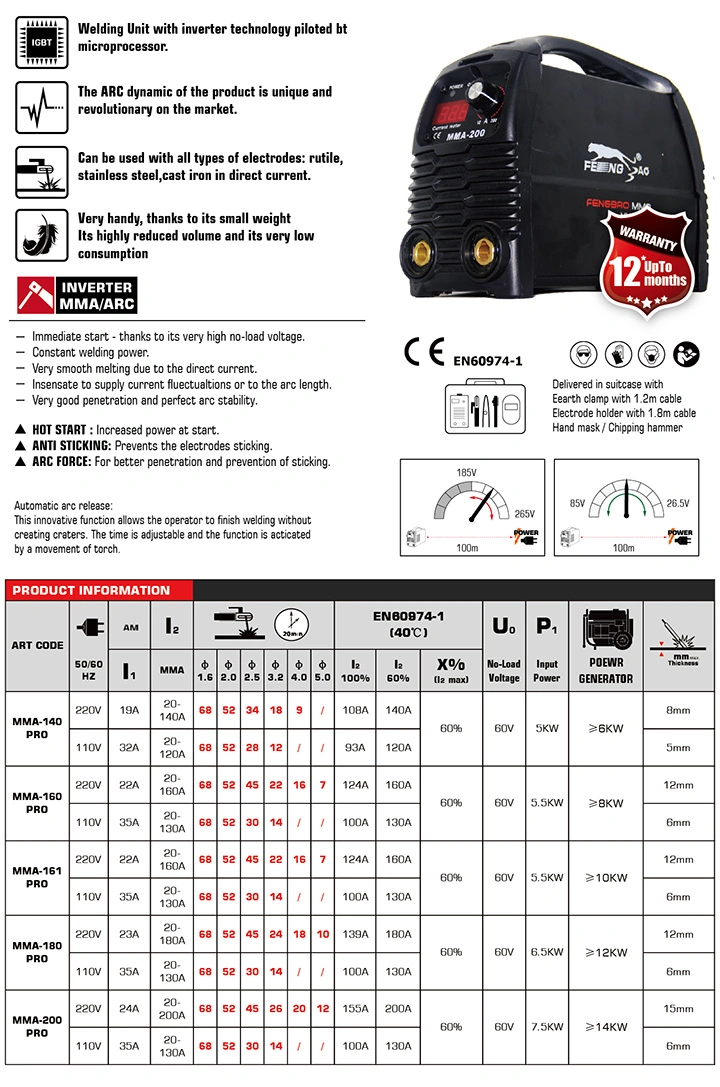 SPECIFICATION:
Model: MMA-180 PRO
Rated input Voltage: AC~110V / AC~220V
Rated Input Power: 6.5KVA
Friendly Generator Power: > 12KW
Frequency: 50/60Hz
Non-load Voltage: 65V
Duty Cycle: 60%
EFFICIENCY: 85%
Class of Insulation: F
Case Protection Degree: IP21
Power Plug: 10A
Rated output current MMA: 180A@230V |130A@110V
Current Range MMA: 20~180A
Accessory:
1) Electorde Holder with 1.8m cable
2) Earth Clamp with 1.2m cable
3) Foldable mask
4) Chipping Hammer & Brush
Option:
- BMC BOX for easy-carry & safe-storage
Size & Weight:
- Product Weight: 5.2 kg
- Product Dimensions (W x L x H): 370 x 200 x 235 mm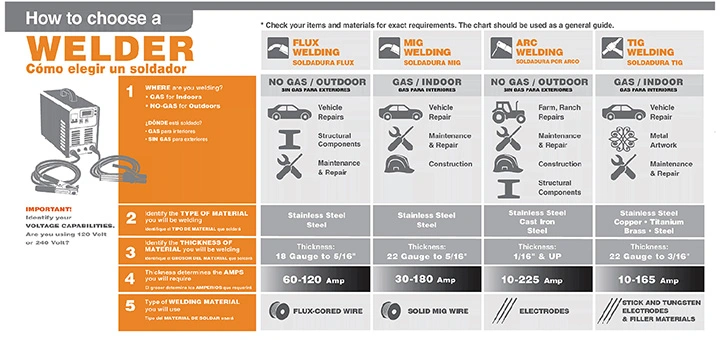 WHY DECAPOWER ?
> DELIVERY ON TIME.
> EXTENSIVE PRODUCT RANGE.
> GREAT RETUPATION
> RESPONSIBLE AND RESPONSIVE CUSTOMER CARE.
> OUR AFTER-SALES SERVICE BRINGS YOU A PEACE OF MIND.
> CUSTOMIZED PRODUCTION IS AVAILABLE.
> SUPPLY FOR OEM AND AFTER MARKETS.
> QUALITY ASSURANCE FROM RAW MATERIAL.
> 100% TESTED FOR THE ACCURACY AND QUALITY PIROR TO SHIPMENT.
Quality & Engineering:

DECAPOWER delivers consistent quality from our ISO9001 certified manufacturing facilities that you can rely on every turn. Our application-specific engineers and dedicated R&D team are able to tailor solutions for optimal performance and value.



All of our machine has been approved by CE, CSA , CCC.